Google Analytics
You would be surprised by how many bloggers do not have this tool installed. Google analytics is a great tool that is also free. It offers a lot of amazing benefits such as tracking your web traffic source. This will instantly tell you where your traffic is coming from. You will need this, as it will automatically reveal to you where a majority of your readers are. It will take a few weeks to figure out as we need to implement a few things first in order to determine your source.
Once you know where your majority of your traffic is, continue to utilize this source to increase even more traffic (DO NOT NEGLECT other sources.)
Other amazing features offered by this tool include, site behavior, clicks, acquisitions and more.
Google analytics is what will help you better optimize your site for better ranking by turning them in clients.
How do you this? There is a few ways: If you are big on affiliate marketing, this tool will help you determine your post popular posts. You will then go back to those post update them:
- New photos
- Polish your blog-ensuring no broken links exist, grammar correction and any spelling errors.
-Add proper affiliate links if appropriate
Keep an eye on your Google analytics daily if possible. One time, I tried to install a new theme and a few plugins, well my analytic code got wiped out completely. For two days, I did not know that my website was not getting tracked. Now I keep an eye on it to ensure it's always working.
We will be showing you how to set this up in the next section as well as how to submit your Site to Google- Sit tight!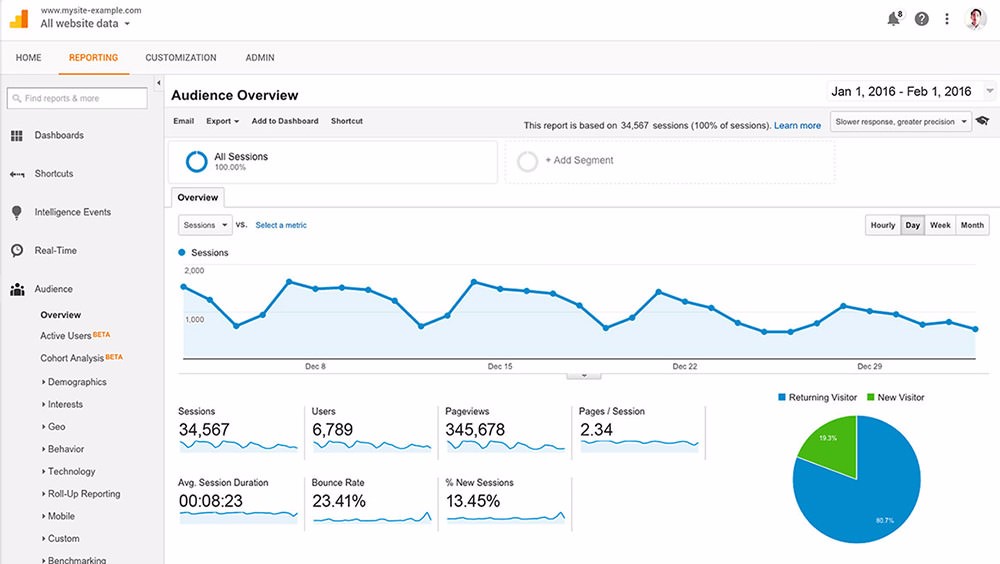 JetPack for Wordpress
We currently use Wordpress to host our blog. Most Wordpress platforms already come with JetPack plugin installed. If this is not the case, please feel free download it.
It offers you with basic website stats and it is perfect for beginners. You can see the total visits per individual posts, which your popular pages are and you are also able to track keywords which is extremely important.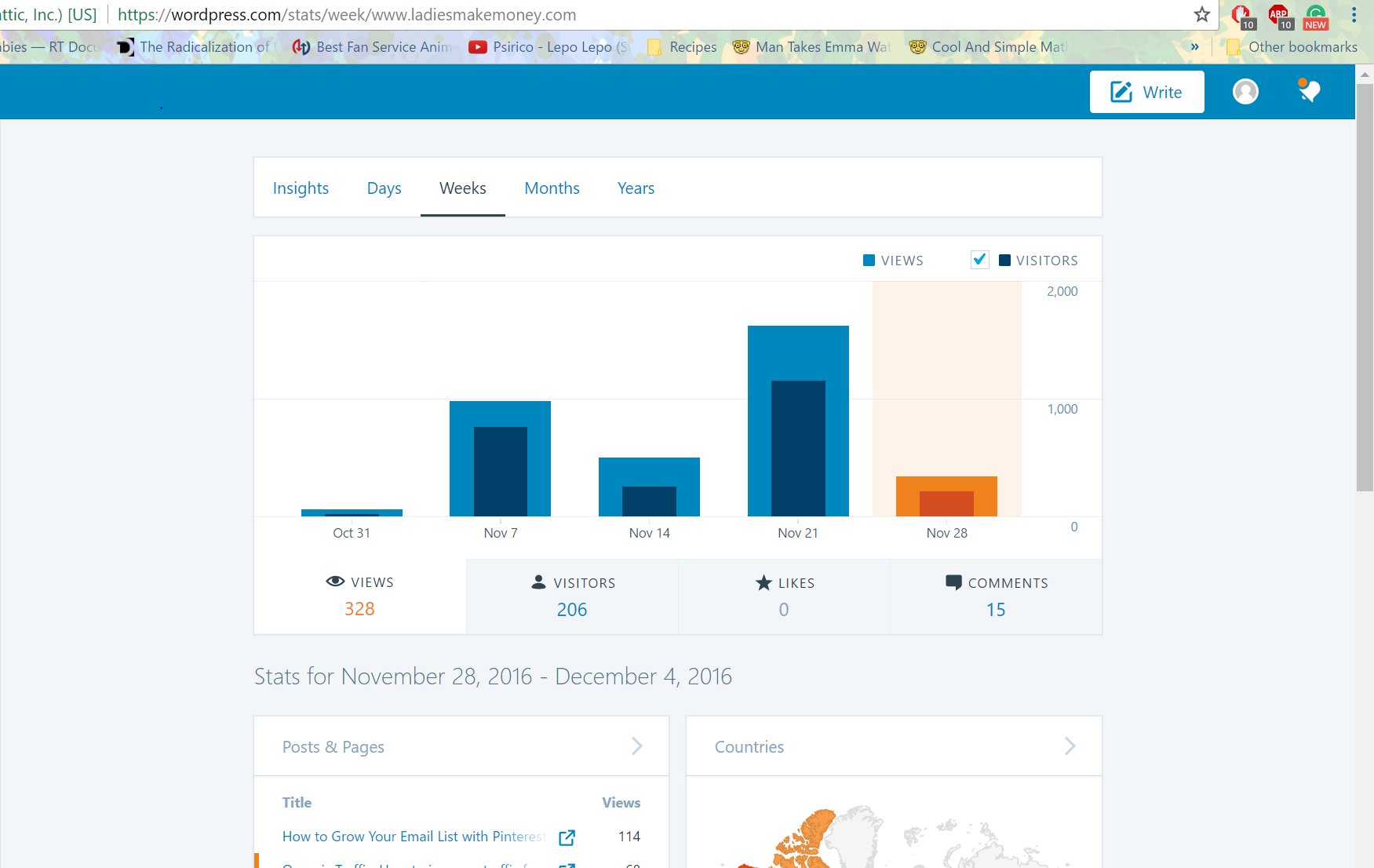 Pinterest Analytics
Pinterest Analytics is vital to your blog success. We will be talking a lot about how to use Pinterest to grow your blog traffic including a strategy that you should all be implementing for great success later in the section.

In order to be able to view your blog Pinterest Analytics you will need to switch your account from your regular account to a business account. Or if you feel like starting over, just create a new business account. You need to connect your website to your Pinterest account so that it can read your analytics. The process takes about 5 minutes but you will be able to see the analytics in a few days.
We will go through more details in the section that we talk about Pinterest. In the mean time set up your Pinterest account for success.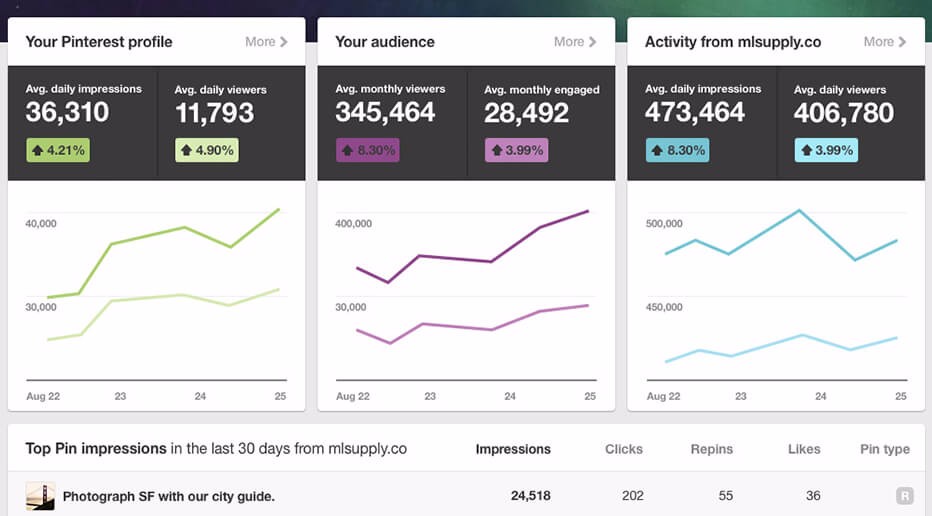 Alexa
This tool is great as it tracks your traffic overall rank, reach, page view, bounce rates and more. You are also able to see a bit about your audience and are able to compare your site to your competitors to see how you are doing (I usually do not recommend comparing your self to others- remember your beginning could be someone else's middle).
Click on "Site Info" at the top of the page, and then search for your site.
Want to see if your blog is doing well? Measure your trends. Don't panic with the results, as you implement the traffic tools we provide, measure it week by week and keep a record. This way you are able to spot patterns and see what content and information are working best for your blog.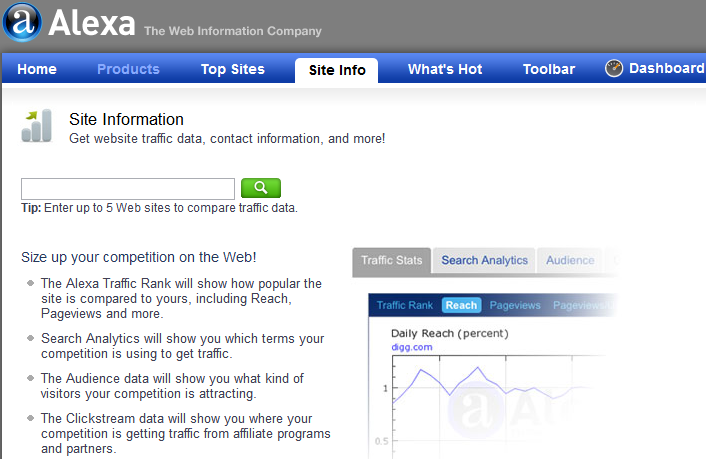 Bitly
Bitly is an amazing tool to track your links. If you are not sure if that traffic link is coming from Twitter or Instagram, why not use Bitly to really find out. Although you can find all this information on Google Analytics Bitly has really helped me. When I share a lead magnet on Instagram, it shows me how many people clicked on it and how many subscribed. This will I will direct more of my efforts to Instagram.
This platform is mainly a link management tool but you will show you amazing stats that you can use to your advantage. Instead of sharing your blog link directly on twitter, use Bitly to shorten this (so you have more room for hashtags) and then monitor the progress.
Keep in mind you can not use shorten tools on Pinterest! It's considered spam. You can use this tool to shorten your URLs and track those URLs from your social media campaigns. Use Bitly - https://bitly.com/

IceRocket
IceRocket is free and is a great too for tracking specific keywords used in your social media marketing. You can also submit your website to it to help with your rank You will then be able to track mentions in blogs, Facebook and Twitter, either individually or all together.
It will give you a trend report of the mentions that occurred int these 3 major social media platforms. It pretty much measures your social media efforts which will help you determine which platform is worth investing in.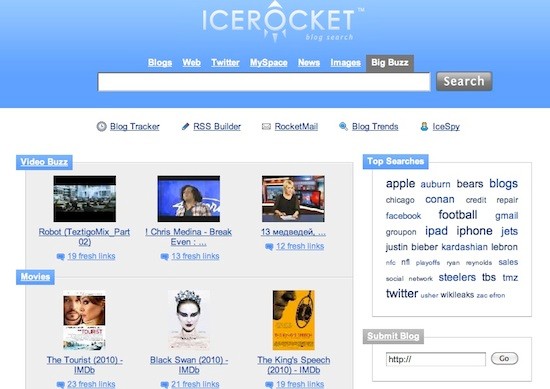 Go ahead and install these tools. Start measuring your stats. Once you know where things are then it's time to work harder on them. Even if you are new to blogging, at least install Google analytics to your blog.
See you in the next section my friend. Will be talking crawling pages, submitting sitemaps for ranking, as well as secret places to find keywords.
All this for traffic. You will thank me later.